Our aestheticians offer a variety of skin care treatments which are coordinated with Dr. Weissmann to achieve the best results.
We are proud to offer The BioPeel™ , which is our exclusive, signature treatment and is only available at Weissmann and Mehrel Dermatology. The BioPeel™ is a revolutionary breakthrough approach to 21st Century skincare and combines Dermatologic science with European wellness techniques. This treatment supports the skin's immunity in defense against environmental challenges; addresses inflammatory issues in acne, rosacea, hypersensitive skin, dehydration, pigmentary changes, (such as hyperpigmentation, or melasma), and aids in the reversal of the visible signs of aging, such as lines and wrinkles.
This groundbreaking treatment utilizes Probiotics, which according to "The American Academy of Dermatology", is the biggest beauty breakthrough of this century." When probiotics enter the skin, they re-open the "conversation" among the cells that have shut down due to the manifestations of aging, and corrects the skin from the inside out, leaving the skin with a radiant, healthy glow, and little or no downtime. Come and get your "Glow On!"
Dermaplaning & Chemical Peels
Dermaplaning is essentially having the skin on your face shaved with a single blade. The blade used resembles a scalpel. This shaving process allows the removal of the excessive buildup of dead skin cells and peach fuzz that tend to gather on the skin's top layer over a period of time. During this skincare treatment, a technician will shave the entire face at about a 45-degree angle by dragging a blade across the skin. During the treatment, the blade will scrape off dead skin cells, scar tissue, or any other debris buildup that may be lingering on the skin's surface.
You are essentially having the top layer of the skin scraped clean of all buildup. This process can help even out the skin tone. After treatment, your fresh skin will be able to absorb topical creams and serums more easily, making your skincare products more effective. Dermaplaning can also trick your skin into thinking it has been wounded. When this occurs, your skin will naturally boost collagen production. This can make fine lines and wrinkles less noticeable.
Dermaplaning can also significantly fend off acne breakouts. Dead skin cells and scar tissue build up on the face can leave pores clogged, causing many bumps and blemishes to form. When you free the skin of all the buildup, you are allowing skin and pores the ability to breathe freely.
Chemical Peels are a skincare technique that is used to aid in smoothing out the skin's texture. This procedure also helps to improve the skin by removing the outermost layers. Popular treatment areas include the face, neck, and hands.
Your skincare professional will thoroughly deep clean your skin before it is treated. Then they will begin to apply the chemical solutions to your face. The chemicals used range from salicylic acid, lactic acid, glycolic acid, or carbonic acid. These chemicals are applied to the skin in small areas, working slowly to treat the entire face. Peels help to remove all the dry, dead skin cells that can build up on the skin's surface over time. This process helps reveal a smooth, radiant complexion free from debris and buildup.
There are several benefits of a chemical peel. This skincare treatment can help eliminate and reduce the appearance of fine lines and wrinkles, mostly around the eyes and mouth. Peels can also aid in the treatment of reducing wrinkles caused by any type of sun damage accrued over the years and the inevitable wrinkles from aging. Chemical Peels can also improve specific acne issues for some individuals. It can also reduce the appearance of facial scarring, age spots, dark spots, and freckles.
Microneedling works to create controlled-micro injuries to stimulate the body's natural wound-healing process while minimizing cellular damage. This helps to stimulate collagen production and remodel scar tissue while keeping the overall structure of the skin intact. Microneedling improves acne scars, fine lines and wrinkles, the appearance of pore size, and overall improvement to skin texture.
SkinPen is the first microneedling device cleared by the U.S. Food and Drug Administration, clinically proven to safely and effectively treat facial acne scars for ages 22 and up.
With as few as three non-invasive and affordable treatments spaced 30 days apart, you can improve your appearance for six months after your last treatment – and step out with confidence. SkinPen creates controlled micro-injuries to stimulate the body's natural wound-healing process while minimizing cellular damage. The result is effective remodeling of scar tissue while keeping the overall structure of the skin intact.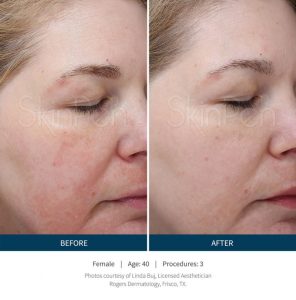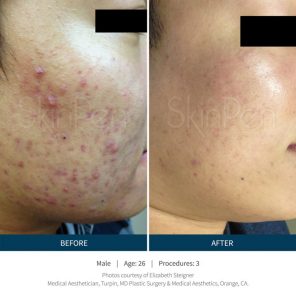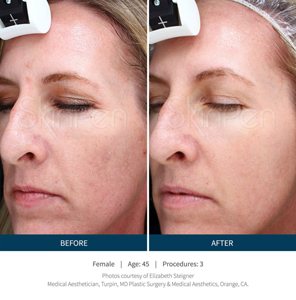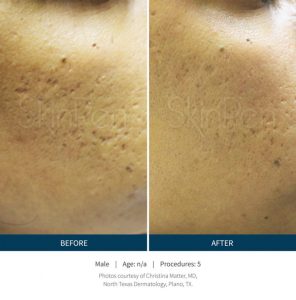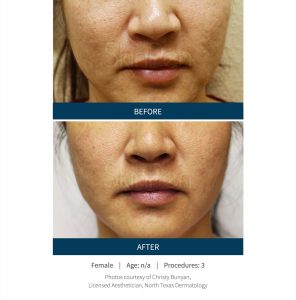 Microblading is a form of cosmetic semi-permanent makeup. It's performed using very fine needles resembling the shape of a blade to draw each individual hair and implant the pigment into the skin creating a natural and realistic effect on your eyebrows.
Microblading is an ideal solution for patients who have patchy, thin or uneven eyebrows and are looking for improvement with the most natural looking results. Not everyone is a candidate for microblading and we will consider factors such as skin condition and health. Microbladed eyebrows take two appointments to complete. The second appointment is called a touch-up and takes place 6 to 8 weeks after the initial appointment.
We recommend a yearly touch-up to maintain the crispness and freshness of the color. Natural fading occurs from external factors such as exposure to the sun as well as internal factors such as the gradual breakdown of pigments as your body metabolizes it out of your system. Everyone can experience the fading process differently and it really comes down to skin type and lifestyle.
Lip Blushing is a semi-permanent makeup technique designed to enhance the beauty of the natural lip color, improve the shape of the lips and give definition and the illusion of fullness. This is achieved by depositing pigments in your lips using small mechanized needles in a quick, consistent hand motion resulting in thin layers of pixelated color as opposed to a solid line, the resulting lip color is subtle and beautifully flushed, not saturated color.
Benefits of Lip Blushing include:
Restores color to lips that have become pale with age
Brightens your natural lip color
Adds symmetry to the lips, defines the shape
Restores fullness
Corrects darkness in the lips
Allows you to wake up with picture-perfect, beautifully flushed lips without applying lipstick, balm or gloss
Lip Blushing is considered semi-permanent. You'll need to repeat the process every year or two to maintain your results. Lip Blushing takes two appointments to complete 6-8 weeks apart.
We're Ready to Help you Today
Fill out our online form or call us at
(305) 674-9009
if you have any questions or if you need to speak to one of our staff members immediately.